Filmbasen i Uppsalaprogrammet
Publicerad: 2011-11-02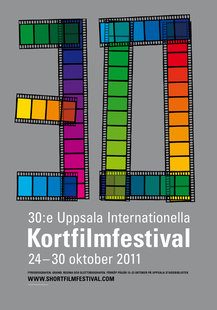 Idag inleds Uppsala Internationella Kortfilmfestival som i år firar 30 år. Sex av de tävlande filmerna är gjorda med stöd av Filmbasen/Film Stockholm: ATT KÖPA EN BIL av Martin Klevegård, BANGA INTE av Fanni Metelius, FÖRTRÄNGD av Jimmy Olsson, GIRL av Fijona Jonuzi, JAG ÄR RUND av Mario Adamson och NATT/DAG av Anders Jedenfors.
Varje år besöks festivalen av ett stort antal filmskapare och representanter för filmbranschen och Filmbasen kommer självklart finnas på plats. Uppsala Internationella Kortfilmfestival är som en av få festivaler i Europa erkänd av Academy of Motion Pictures Arts and Sciences vilket innebär att vinst av Uppsala Grand Prix i den Internationella tävlingen och priset för bästa barnfilm i Kortfilmfestivalen UNG gör filmerna nomineringsbara till en Oscarsnominering.
På kortfilmfestivalen visas varje år mer än 300 kortfilmer från hela världen i en rad olika sektioner – ny film i tävlan i den Internationella tävlingssektionen, svensk film i tävlan i den Svenska tävlingssektionen, nordisk konst- och dokumentärfilm i sektionen Nordisk film, film för barn och unga i Kortfilmfestivalen UNG, det senaste från svenska filmskolor på Filmskoledagen samt en rad specialprogram och retrospektiv. Deltagande i kortfilmfestivalen innebär för svenska filmer att de kvalificeras för nominering till en Guldbagge.
Läs mer på www.shortfilmfestival.com där du hittar programmet som pdf.