Filmbasen på Stockholms filmfestival – STHLM Debut-mingel och work in progress
Publicerad: 2017-11-13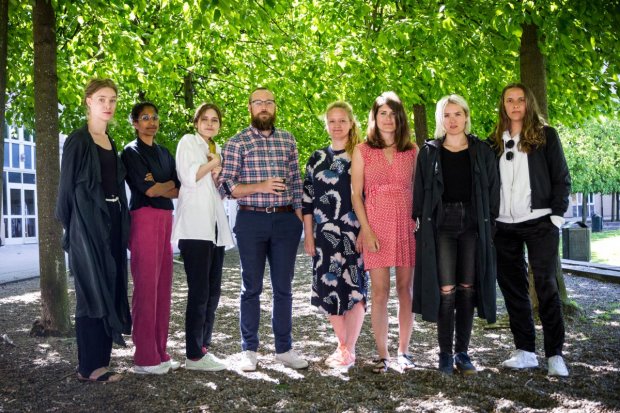 STHLM Debut, deltagarna i omgång 6. Foto: Mikael Ström Jupiter.
Stockholms filmfestival invigs under onsdagen och Filmbasen är som vanligt med på ett hörn under festivalen som pågår 8-19 november. Flera filmer som vi har gett stöd visas, och den 15 november arrangeras STHLM Debut-dagen med work in progress och mingel.Filmbasen har varit med och gett stöd till sex av filmerna som tävlar i sektionen 1 km film:
Intercourse av Jonatan Etzler
My gay sister av Lia Hietala
Push it av Julia Thelin
Shadow Animals av Jerry Carlsson
The Turk Shop av Bahar Pars
Picture world av Elin ÖvergaardAlla filmer i kategorin 1 km film visas i ett block den 12 november klockan 19.00 på Grand.Läs mer: http://www.stockholmfilmfestival.se/en/festival/2017/program/section/22
STHLM Debut: Work in Progress, seminarium och mingel
Onsdag 15 november, kl 14:00-15:00: WORK IN PROGRESS, Filmhuset (Bio Mauritz)
Under Stockholm Filmfestival arrangeras ett Work in Progress med årets fem projekt från satsningen STHLM Debut. Filmerna som presenteras:DOGBORN
Director: Isabella Carbonell, Producer: Cecilia Forsberg Becker:MERIL
Director: Victoria Verseau, Producer: Malin Hüber.SCHEME BIRDS
Director: Ellen Fiske and Ellinor Hallin, Producers: Mario Adamson and Ruth Reid.SAGRES
Director: Lovisa Sirén, Producer: Siri Hjorton Wagner.SWEDISH SILENCE
Director: Jonas Westbom, Producers: Eliza Jones and Markus Waltå.Anmäl dig genom att tacka jag på vårt Facebook-evenemang: https://www.facebook.com/events/1177109372421350/, eller mejla till sthlmdebut.wip@filmbasen.se.Arrangörer är Filmbasen/Film Stockholm, Filmregion Stockholm-Mälardalen och Stockholms Filmfestival.Onsdag 15 november, kl 17:30–18:00: Seminarium med fokus på åskådarperspektiv, Alma, Nybrogatan 8
Om strategi och mätmetoder för att synliggöra filmens verkliga värde. Seminariet är en del av STHLM Debut och Filmregionens projekt Smart Kreativ Stad. Medverkande:
• Anna Weitz – Genomslag och värden utifrån filmen Silvana – väck mig när ni vaknat
• Ragnhild Ekner – Fördjupad publikkontakt – Trafikljusen blir blå imorgon
• Jerry Eriksson och Anette Sidor – Trygga rumOnsdag 15 november, kl 19:30-21:00: MINGEL, Alma, Nybrogatan 8
Kom och mingla med Sveriges hetaste talanger! Möt långfilmsdebutanterna bakom årets STHLM Debut-projekt som presenterades i dagens Work in Progress-seminarium.Anmäl dig här om du vill komma.Facebook-evenemang: https://www.facebook.com/events/219381795266878/OM STHLM DEBUT:
STHLM Debut är ett samarbete mellan tre parter; Filmregion Stockholm-Mälardalen, Film Stockholm/Filmbasen och Stockholms Filmfestival. Huvudfinansiär är Stockholms läns landsting.Stödet från STHLM Debut innebär: utvecklingsstöd, möten i grupp och individuellt, skräddarsydda workshops och exklusiva möten med internationella branschpersoner, samt synliggörande under Stockholms filmfestival genom t. ex. work in progress.Bilden: Årets deltagare i STHLM Debut. Foto: Mikael Ström/Film Stockholm.