Studios
A list of studios in the greater Stockholm area.
To be listed here, the company needs to have a studio for hire. It is useful to note that studios often offer other services as well, such as equipment or other rentals. Studio facilities are also often hubs for other film service companies.
Important note: You as a client need to do your research and see to that the company, its studio or other services meet your requirements. Stockholm Film Commission does not take any responsibility for quality of service. The list is in alphabetical order.
Dagsljus Filmequipment AB – Studio and Rental House for Film since 1991

We offer two newly built and highly versatile professional film studios in direct connection to our equipment warehouse located in the southern part of Stockholm. The two studios are easily accessed at street level and are adaptable to fit your production needs. The studios come with their own makeup & dressing rooms. With our equipment rental literally next door, studio productions have never been easier. We don't aim to be the biggest, but we strive to be the best. Everyone at Dagsljus knows the production challenges, the pressures of being on set and work hard to make sure that you don't have to worry about the equipment.
Quick Facts
Studios, 195 + 135 sqm right at the warehouse
Camera, Lighting, Grip, Sound and Stills equipment
Vehicles and Generators
Support 24/7 service
Located in Stockholm (main), Gothenburg and Boden
Contact info
Delight Studios AB – High-end Film & Photo Studios + Virtual Production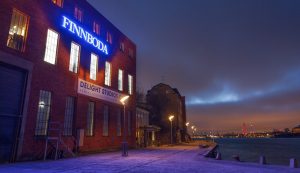 Great service, beautiful and large studios offering exhaustive range of premium solutions and latest Virtual Production technology. With easy access, also by boat from the City Center, we are located on the waterfront and opposite of the Royal Garden of Stockholm. Our pristine installations and unbeatable service have given us a name and reputation. We offer great food, cooked by our in-house chef, and have a pop up wine and tapas bar on our third floor.
Quick Facts
Best studios in Scandinavia with excellent accessibility
Daylight studios with very large windows facing North
Gear rental and solutions
Virtual Production facilities
Great installations, slick cycloramas and motorized truss
Contact info
Igelkott Studios AB – The Car Scene Company

We are industry leading in car scene virtual production. Our studio & projection setup replaces green screen and process trailer.
Quick Facts
We produce 360-degree content for rear projection.
We are Barco projection – virtual production experts.
No need for 3D animation and tracking systems.
Work locally and internationally.
Contact info
Independent Studios – World class studio facilities for commercial and feature film productions

Independent Studios offers world class studio facilities in Stockholm for commercial and feaure film productions, with 900 sqm of studio space. Our services consist of two modern and fully equipped soundproof filmstudios. We started operating in 1999 as a professional full-service rental studio, offering clientbased solutions within all areas of film and TV-production. Chrome colors and chrome screens/back drops and fullservice equiment rental. In connection to both studios are adapted facilities for production management, free parking on site, makeup, dressing rooms, a large dining room where we offer high quality in house catering for all types and sizes of productions.
Quick Facts
Two soundproof studios, 550sqm and 330sqm
Large cyclorama wall
Big cargo ports for loading on ground floor
Floor load up to 5.0 tonnes per sqm and 7.80m ceiling height up to grid
Studios located next to Independent Dekor, a fully equipped workshop with 600sqm of construction area
Contact info
Plus 46 Studio AB – Offers TV/film studios with or without equipment or technicians

Plus 46 Studio AB offers studios with or without equipment or technicians at affordable prices. Our studios are recommended as a live studio, streaming studio, casting studio, film studio, green screen studio, digital studio for live streaming, live on tape, TV production, film production, voice recording and more.
Quick Facts
Studios located in Stockholm, the capital of Sweden
Studios located right next to the cross-rail station with excellent communication
200 meter from Ljud & Bild Media AB a large equipment rental company
Two small video studios and one voice recording studio: Studio 1: 100 sqm. Studio 2: 25 sqm. Studio 3: Voice recording studio.
Plenty of parking, with a large loading dock
Contact info
Subtopia

Subtopia has everything you need. Looking for a larger space with your own outdoor area? Our 2150 square meter studio, Hangaren, with its gated area and substantial backstage space will fit most productions. Or maybe you need a smaller studio, we have that too. Subtopia hosts the production of large tv-shows as well as an up-coming director's first short film, and our team is always keen to provide the best service money can buy.
Quick Facts
25 minutes from Stockholm city
Hangaren: 2150 sqm with 3 cargo ports 4,2 x 4,2 m
Production house with 16 dressing rooms, office, kitchen, dining room and laundry room adjacent to Hangaren
Studio 3: 388 sqm with one cargo port 3 x 3 m
Contact info